OMEGA is the Oxfordshire Myalgic Encephalomyelitis Group for Action. We are a self-help group for people with ME or Chronic Fatigue Syndrome, and their carers.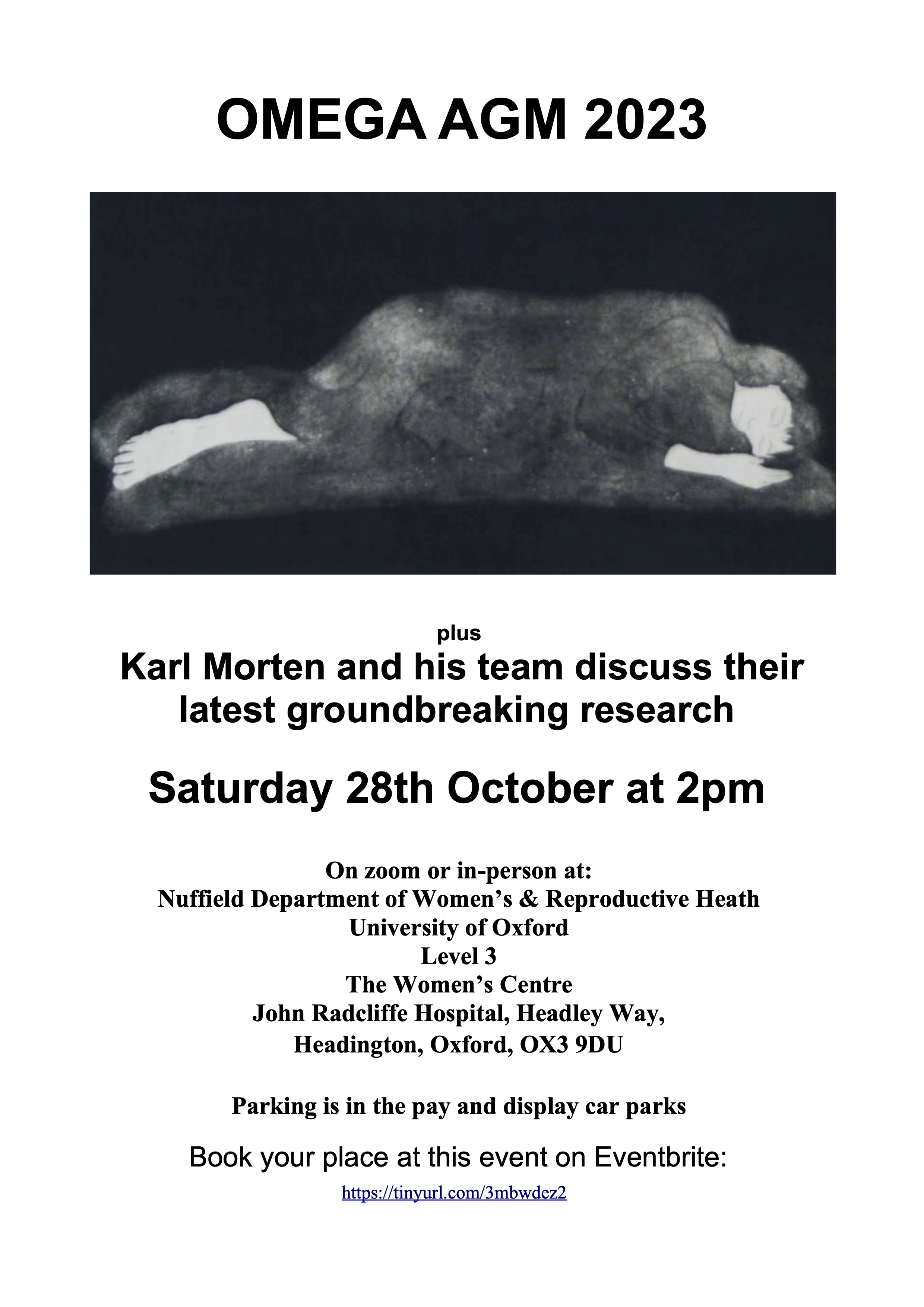 Ticket Link to AGM and Karls Talk (FREE)
Fundraising for OMEGA
https://www.easyfundraising.org.uk/causes/omega/
Some Past Events and reoccurring events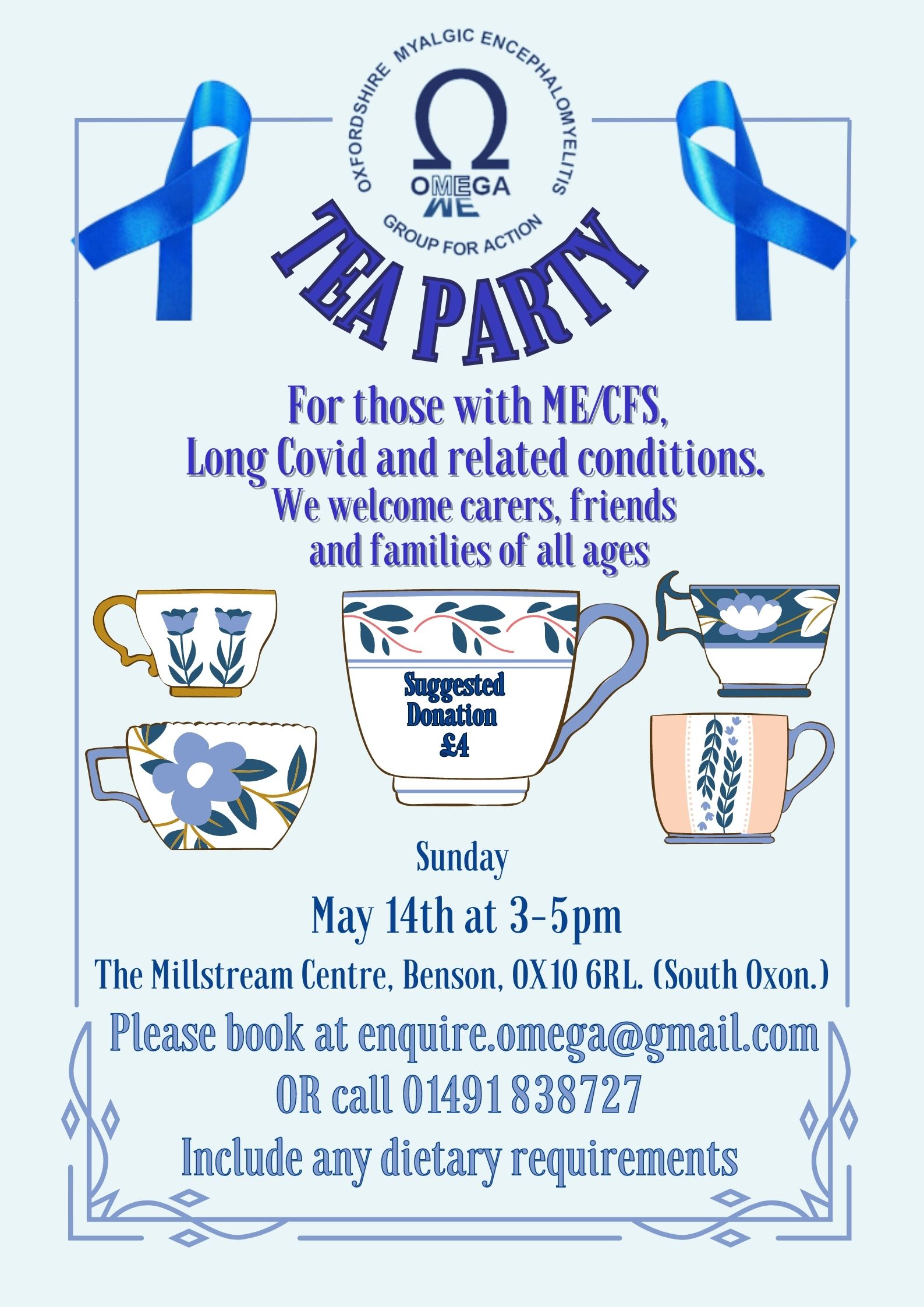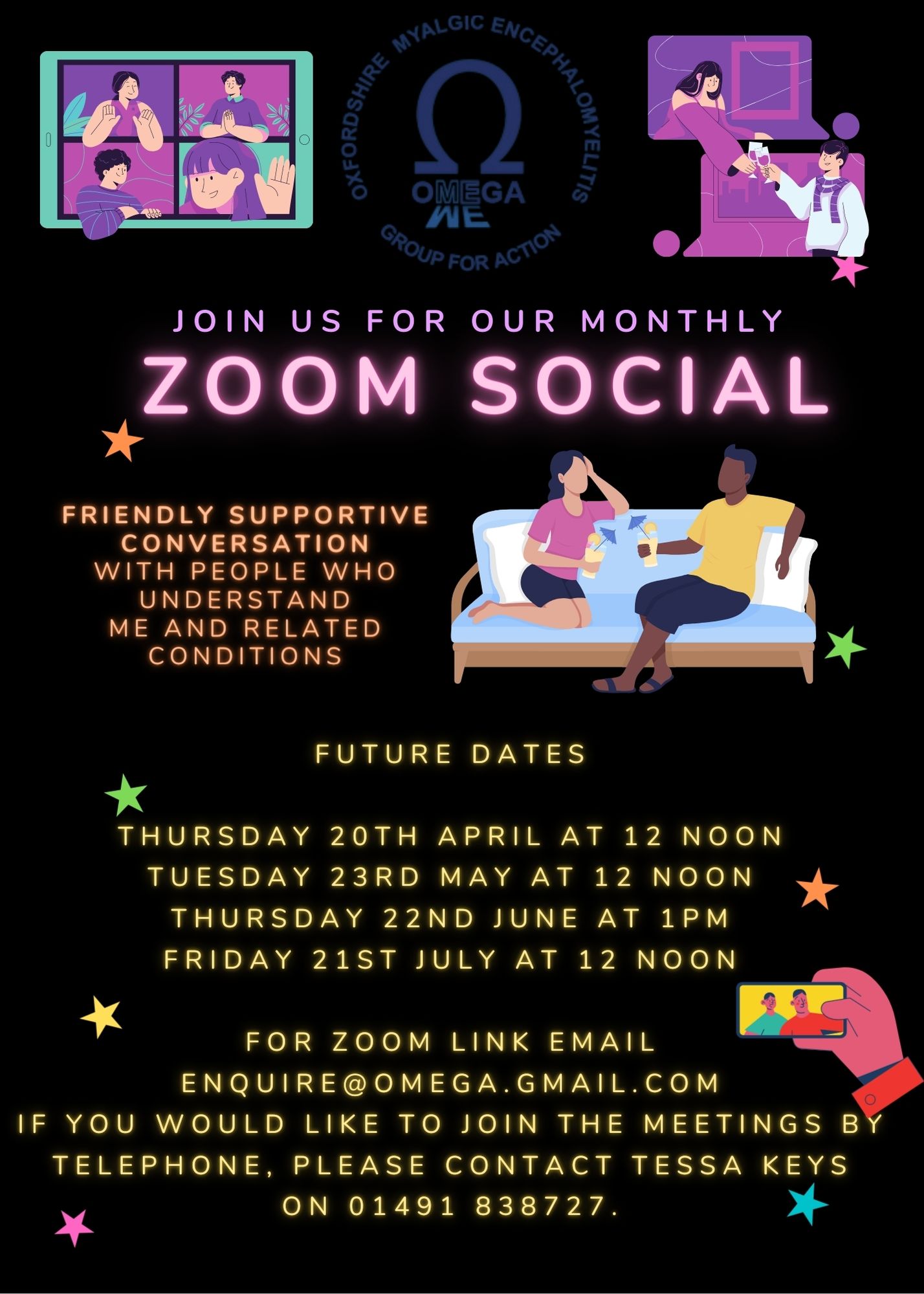 April 2023
A belated Happy 2023, and with the start of Summer round the corner theres a few things to tell you about now our website is back!  check back for updates soon.   
December 2022
Once again in seem we are wishing everyone in the M.E. World a safe Christmas time and a Happy New Year :)  Follow us on Twitter: @omegaoxon
December 2021
Wishing everyone in the M.E. World a safe Christmas time and a Happy New Year
from all at OMEGA
Sound files can now be found here  
If you have more Website updates please send a message for Trev
November 2021
GET scrapped from NICE Guidelines at last!
Zoe Williams and brother Trevor have been on the radio, talking about what it means to us that graded exercise is no longer recommended for M.E. It's 15 minutes starting at 15:13.
Download or listen to .mp3 here
Radio link (which will expire) Kat Orman Listen Here 
Saturday 18th September
Catch Karls Talk here :
Link to share : https://www.youtube.com/watch?v=bSc6QZyvQN8
Slides from Karl's talk at the OMEGA meeting https://bit.ly/3EA3iT1
Please do support his work and research by making a contribution here : https://mortengroup.org.uk/fundraising
ProstestNICE4ME MONDAY 20th September 2021
There is going to be a demonstration on Monday 20th September - 1pm outside NICE headquarters. 
If you can't attend the protest in person and don't have anyone who can go on your behalf, you can send a video message, picture or short message by email that will be read at the protest on Monday on your behalf.  Tell us how YOU feel about NICE delaying publishing the #MEcfsguidelines.  Photos and videos (under 2 mins) to hello@thechroniccollaboration.com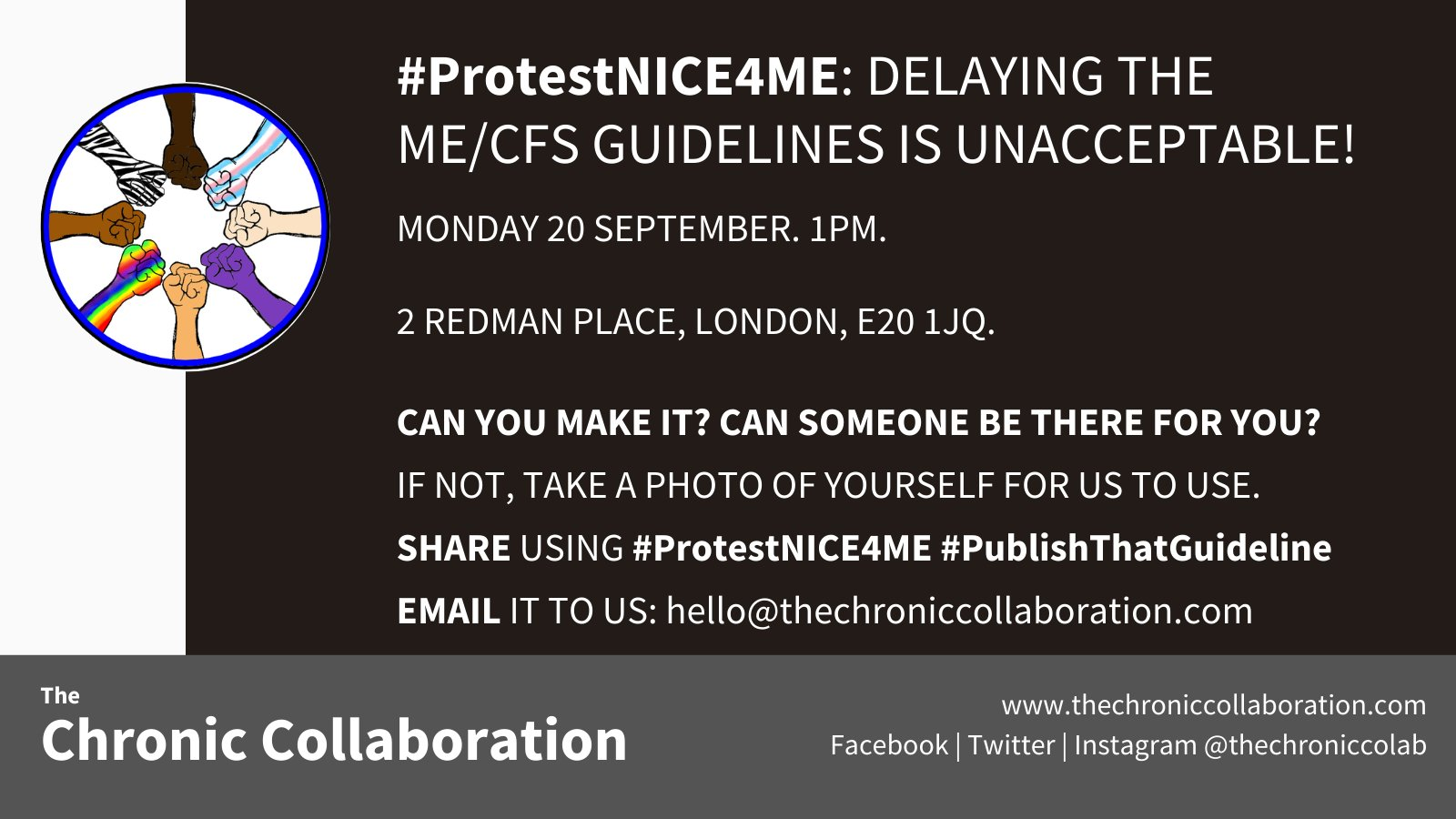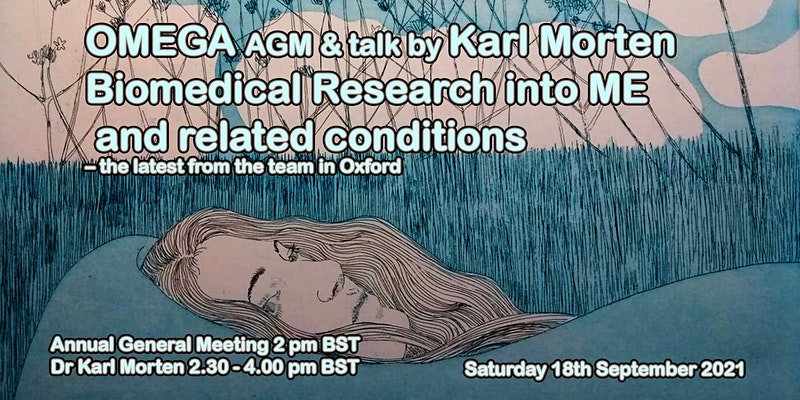 Dr Karl Morten will explain his cutting-edge biomedical research in to the pathology of ME/CFS from 2.30pm after the OMEGA AGM at 2pm BST.
https://www.eventbrite.co.uk/e/omega-agm-karl-morten-latest-biomedical-research-into-me-from-oxford-tickets-162977745825?aff=estw&utm-campaign=social&utm-content=attendeeshare&utm-medium=discovery&utm-source=tw&utm-term=listing
About the talk:
The role of the microbiome in fatigue: does sex make a difference?
Microbial imbalance of the intestinal biome is a key associated factor in many chronic conditions including Myalgic Encephalomyelitis (ME/CFS).
 Our major research goals are to increase our understanding of ME/CFS and open up new treatment options. If a leaky gut is a key component of ME/CFS, restoring a normal gut microbiome balance could be life changing treatment options.
Our collaborator SoftCell Biologicals Research (SBR) have developed approaches examining the host tissue biome. This is an un-tapped area of medicine with the presence of significant levels of wall-less (L-Form) opportunistic pathogens present in many chronic disease states. Using novel L-Form culturing methods SBR have treated L-form cultures from patients with chronic urinary tract infections (CURTIs) using a standard antibiotic panel. Clinicians acting on this information have noticed improvements in a number of patients.
Clinical studies, using this approach will allow antibiotics tested in the laboratory to be used to treat patients in a blinded trial setting. In this presentation, I will highlight our research with the Doveclinic exploring levels of gut dysbiosis in a broad range of conditions many of whom suffer with fatigue. The impact of age and sex on the gut microbiome will be explored with a focus on ME/CFS and cancer.
Exciting data from a comparison of recent trials of Gut Floral Replacement Therapy (GFTR) to the more conventional Faecal Microbiota transplantation (FMT) will be presented.
---
Dr Karl Morten
To donate to the research of Dr Karl Morten
Understanding the causes of ME/CFS
Research into the causes has been limited due to lack of funding, but the recent identification of high levels of L-form bacteria in the blood of ME/CFS patients suggests a compromised immune system could be a biological cause of the illness.
https://www.development.ox.ac.uk/mecfs
---
Talk about pause to NICE Guidelines on M.E. on Radio Oxford
Talk about pause to NICE Guidelines on M.E. on Lilley Mitchell sits in (23/08/2021) BBC Radio Oxford 
Click for sound clips..
---
JUNE 2020 - COVID-19 lockdown - OMEGA is adapting also to the current situation
NEWSLETTERS Online!  click the TAB to download or read the latest OMEGA Newsletter or to read past ones.  
M.E. on the Radio Kat Orman, 10th May

Click for sound links

Monday 10th May 2021

1.10 - 1.18  Stella from Fritwell

1.26 - 1.33  Iona from Aston

1.50 - 2.00  Mike from Bicester then with James from Kidlington

Wednesday 12th May
14 min - 26 min  (12 mins)

Stella and Charlie from Witney
Dr Karl Morten's M.E. Research on BBC South News
Oxfordshire ME Group for Action (OMEGA) Experiences of Children with ME 
July 2018
For Events details click on Full events listing
Life with ME/CFS
This collection of original and powerful poetry from Oxfordshire ME Group for Action (OMEGA) lets you see the view 'from the bed'.
Stay up to date with OMEGA
BBC Local News item about the GP survey and childrens' ME services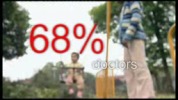 South Today, 8th February 2013 (wmv format, 2.5M)
BBC Oxford feature on the GP survey and childrens' ME services
Patricia Wells of OMEGA speaks to James Cannon. Listen here (mp3 format, 3MB)
Oxford Mail article on the campaign for children's ME services in Oxfordshire - 4th Feb 2013
'Futures on hold' for young ME sufferers
Another new research paper co-authored by OMEGA member Norman Booth - 20th Nov 2012
Targeting mitochondrial dysfunction in the treatment of Myalgic/Encephalomyelitis/Chronic Fatigue Syndrome (ME/CFS) – a clinical audit (pdf)
Norman gave a talk on this paper at the 3rd World Congress on Targeting Mitochondria in Berlin on November 9th 2012.
Interview on BBC Radio Oxford - 30th Oct 2012
Jayne Diston and Jan Seed speak to Malcom Boyden about OMEGA, ME and Poetry from the Bed. Listen here (mp3 format, 9MB)
We were also featured in a BBC News website article!
New research paper co-authored by OMEGA member Norman Booth
Interview on BBC Radio Oxford - 14th May 2012
Jayne Diston, Dr Charles Shepherd and Pat Williams speak to Jo Thoenes about ME, OMEGA's 'Poetry from the Bed' competition, prize giving and the winning poem 'Anstice', ME Awareness Month exhibition and 45,000 installation, and OMEGA. Listen Here
Radio 4 programme about ESA 20th December 2011
ME article Oxford Times May 5th 2011, p.46:
For years I haven't been able to make a meal...
Latest research shows evidence of persistent infection of children with ME:
http://www.bbc.co.uk/news/uk-scotland-tayside-central-11204884
OMEGA offers help and support by providing:
Meetings, social events and workshops - Including talks by both conventional and complementary practitioners, latest research and benefits information - see Forthcoming Events
Quarterly newsletters – Full of supportive advice and information, including some jokes and pictures.
Monthly meditation group – For further details please contact omega.meditation@phonecoop.coop
Information and training for Health Professionals
Access to other Oxfordshire groups - See below:
Telephone contact list – For details contact OMEGA – Details below.
A library
OMEGA is also active in research and campaigning for improved services: