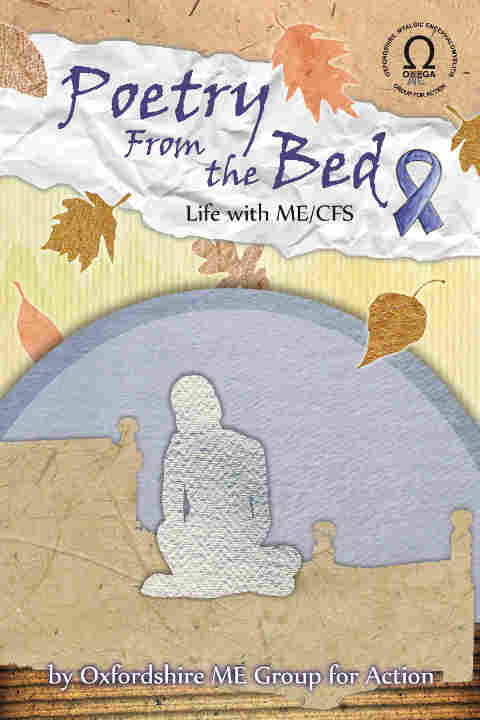 Oxfordshire ME Group for Action (OMEGA) presents
Poetry From the Bed
Life with ME/CFS
'These poems movingly demonstrate the sheer bravery and resilience of the human spirit. Inspirational.' Clare Francis, best-selling author and President of 'Action for ME'
Skip to ordering information...
Do you know someone with ME or Chronic Fatigue Syndrome? The chances are you do - one out of every 250 people has it. But do you know what it is really like for them - and their families?
This collection of original and powerful poetry from Oxfordshire ME Group for Action (OMEGA) lets you see the view 'from the bed'. Beautiful, humorous and inspiring poems. Adults and children - some as young as six years old - speak movingly and honestly about their lives with ME/CFS. The poems were originally entered for a competition, and then displayed as part of an exhibition in Oxford.
'I really enjoyed reading all the poems for the OMEGA Poetry Competition...So many resonated with me on how it feels to live with this illness at any age. I thought the winning poem was outstanding.' Vivien Steels, Competition Judge, Poet and Illustrator.
'A moving, urgent and important collection. Hugely impressive.' Harry Bingham, best-selling (Oxfordshire) author, and carer of person with ME/CFS.
'Very moving - and important to bring to attention how many people have this condition and have to live with it for years'. Visitor to exhibition featuring the poems.
Ordering Information
OMEGA members may order copies by post using our printable order form. Copies are currently stocked in bookshops across Oxfordshire! It is also available on order at any bookshop in the country, and will be available at on-line bookshops in the UK and internationally very soon - please visit your on-line store and put in a request. If you are having difficulties obtaining the book, please email poetry.omega@gmail.com
RRP UK £6.99
ISBN: 978-0-9574170-0-7
Oxfordshire ME Group for Action