Many ME sufferers find it difficult to manage financially if they are unable to work, and often require financial advice.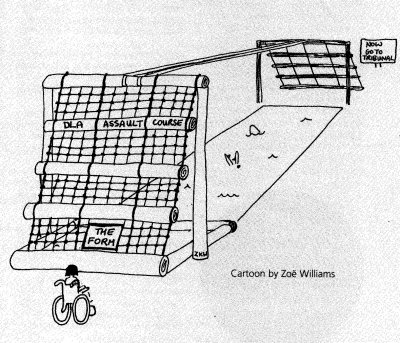 There are different benefits to which ME people may be entitled, including Incapacity Benefit, Employment and Support Alllowance (which replaced Incapacity Benefit for new claimants from October 2008), Disability Living Allowance, Attendance Allowance.
Carers may also be entitled to claim Carers Allowance.  The Benefits system is now all changing see 'Getting the care you need' page 10 in newsletter no. 72. (.pdf format, 1019Kb).
For further details please contact your local Citizens Advice Bureau, advice centre or Benefits in Practice worker at your GP surgery.
For Oxford residents:
Barton Information Centre: 01865 744152
Agnes Smith Advice centre, Blackbird Leys: 01865 770206,
Rose Hill and Donnington Advice Centre: 01865 438634.
For Oxfordshire residents:
Citizens Advice Countrywide Adviceline: 0844 111 444
There is also information on the various forms and medicals from:
ME Association: www.meassociation.org.uk
and Action for ME: www.afme.org.uk.
See Newsletter no. 66 (.pdf format, 147Kb) for more details.
Action for ME now has a welfare rights helpline: 0845 1228648.
Discounts
If you are well enough to go out to the theatre/cinema/concerts etc, many venues have reduced prices for disabled people or allow a carer to have a free seat if they need to push your wheelchair or otherwise look after you. Ask at the venue. 
Cinema Exhibitors' Association Card (CEA) - £5.50 per annum. 
Tel: 0845 123 1297 
www.ceacard.co.uk or email info@ceacard.co.uk.
Practical Support
Direct Payments, Personal Budgets and Care Services 
Contact the Access Team at Social Services on 08450 507 666 for an initial chat, help and advice, a review by an occupational therapist and/or an assessment to see if you would qualify for financial help.  Or visit the health and social care pages onwww.oxfordshire.gov.uk
Access Team 
PO Box 780 
Oxford 
OX1 9GX
The Benefits system is now all changing see 'Getting the care you need' pp,11-13 in the newsletter no. 66. (.pdf format, 147Kb). For more information contact:
Social and Health Care 
Mountfield House 
Berinsfield 
Wallingford 
Oxon OX10 7LZ
Mobility Support
Parking in Oxford for people with Disabilities 
The sites of disabled parking places in Oxford are available from the Oxfordshire County Council website: 
Disabled Parking in Oxford
Leaflets also available from Libraries or ring 01865 815700
Blue Badge Scheme
Telephone: 0845 0507666
email: SCS@oxfordshire.gov.uk
This enables you to park in places set aside for disabled people, and on some double yellow lines.
Octabus/Dial-a-Ride
Tel. 01865 876176
This is a mini-bus that will come and pick you up at your house and take you wherever you want in Oxfordshire - book one week in advance.
Bus Pass
For free travel for disabled people on local buses, anywhere in England.
Apply via Oxfordshire County Council
Disabled Person's Rail Card
This gives you, and an accompanying carer, one-third discount on all train journeys. It also gives other discounts e.g. for hotels. You pay for the card. This is available for people on a range of benefits including Incapacity Benefit.
Tel: 08457 484950 
http://www.disabledpersons-railcard.co.uk
Exemption from motor vehicle licence
For those who get Disability Living Allowance (DLA) (the higher mobility rate). 
Tel. 08457 123456 
Minicom users: 08457 224433 
DLA Unit, Warbreck House, Warbreck Hill, Blackpool, FY2 0YE. 
ShopMobility
Oxford: Tel. 01865 248737 
Bicester: Tel. 01869 320132 
Witney: Tel. 01993 864787 
National Federation: Tel. 08456 442446 or www.shopmobilityuk.org 
Mobility scooters or wheelchairs for hire (free). No need to prove disability. 

Travel Assistance 
All the train companies and most major airlines can help you when travelling e.g. with wheelchair or carrying luggage. It is advisable to book well in advance. 

See Newsletter no. 63 (.pdf format, 1.75Mb) for more details.